---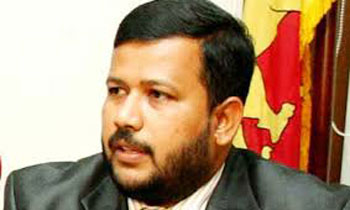 Minister of Industry and Commerce Rishad Bathiudeen yesterday said that there was no shortage of rice in the market as imported rice volumes had begun to flow into domestic retail and wholesale channels.
Minister Bathiudeen accompanied by officials of the Consumer Affairs Authority (CAA) on Wednesday (15) made a surprise visit to a privately owned rice warehouse at the Fifth Cross Street in Colombo to see if claims of a rice scarcity were true.
After completing the inspection the minister told the media that imported rice was being distributed and rice shortages are now ending. He therefore assured the public that there was no rice shortage in the country at the moment.
"I visited many shops and rice wholesalers in and around Colombo and they were all selling rice at the stipulated Maximum Retail Prices (MRPs). Certain outlets were even selling rice at below the market prices," he said.
A shop in Colombo 5 was selling Ponni Samba at Rs. 64 a kilo when the MRP for it is Rs. 80. Consumers have been requested to call our hotline 1977 to complain about any instances when rice is sold at prices that are above the MRP," he said.
"About 250 officers belonging to the CAA were engaged in checking rice prices across the island today. I request the public to stop spreading false rumours about imported rice being sold above the MRP. The rice that I am talking about here is not the domestically milled rice but imported rice on which we reduced the import tax to a mere Rs 5,"he pointed out. (Chaturanga Pradeep)