---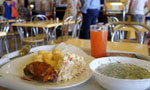 Although the price of a loaf of bread has been increased by the Bakery Owners' Association, the prices of other items sold at canteens will not be increased, Canteen Owners' Association (COA) National Organiser Asela Sampath said today.
"The price of other food items sold in canteen won't be increased. It is unreasonable to increase the price of loaf of bread price by Rs.4.00," he said. "Any price increase on a loaf of bread should be imposed by the government. In the alternative the government should grant some sort of relief to owners of Bakeries and Canteens."
Mr. Sampath said four loaves of bread each weighing 452 grammes could be produced with one kilo of wheat flour though unfortunately a loaf of bread made in most bakeries was not of the standard weight.
"Without a standard weight in place it is unfair to impose a price increase of Rs.4.00. This leads to bakery owners earning an extra profit of R.9.00 on a loaf of bread," he said.
Mr. Sampath said, it was only proper for the price of a loaf of bread to be increased by Rs.2.50.
We are contemplating legal action against the bakery Owners Association over the increase in the bread prices and had requested the Consumer Affairs Authority (CAA) to implement a law compelling shops to have a weighing scale but this was never carried out. (Chaturanga Pradeep)