---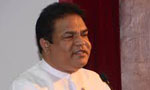 Commenting on issue of appointing former Defence Secretary Gothabaya Rajapaksa as the second leader of the SLFP, Rural Economic Affairs Minister P. Harrison said there was no necessity for such an appointment as the present leader of the party, President Maithripala Sirisena was capable of handling the party.
"President Sirisena had been working as the General Secretary of the party for some years and won few elections. President Sirisena is an experienced man with more than 40 years in politics and therefore it is not necessary to bring in another Rajapaksa as a leader," he said.
Responding to a question raised by journalists on the purchasing of new vehicles for Ministers, Harrison said he had not asked for new vehicle as the two vehicles he already had were sufficient for him. "I don't need new vehicles as the two I have are sufficient for me," he said.
Meanwhile, commenting on a request made by some of his Cabinet colleagues that Arjuna Mahendran should not be re appointed as the Governor of Central Bank, the minister said the non-appointment of Mahendran would not be a big issue.
"If Mahendran was not appointed to the Governor's post he will secure another job even abroad, and will not perish. Therefore it is not a major issue," Minister Harrison said responding to a question raised by journalists at a media briefing today.
He said President Maithripala Sirisena and Prime Minister Ranil Wickremesinghe would decide on the matter. (Yohan Perera)