---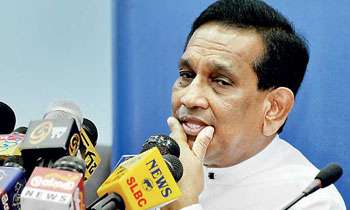 The National Transport Commission (NTC) had granted the maximum possible bus fare increase to private bus operators on an accepted Government policy and therefore, the NTC was not in a position to give further increase to private bus operators, Cabinet Spokesman, Health Minister Dr Rajitha Senaratne said today.
He said that the Transport Ministry would strengthen the SLTB bus fleet by additional 1,500 buses with effect from tomorrow morning in addition to increasing the number of train services to face a bus strike if private bus operators went ahead with the scheduled trade union action.
Meanwhile, Deputy Transport and Civil Aviation Minister Ashok Abeysinghe's offer to increase bus fare by 12% was rejected by the three trade unions of private bus operators, who discussed the issue with him last afternoon.
Deputy Minister Abeysinghe said another discussion had been scheduled late last afternoon with the Private Bus Operators Union, All Island Private Bus Company Federation and the Inter-Provincial Bus Company Federation.
"I offered a 12% bus fare increase of bus fares with the consent of President Maithripala Sirisena effective from next Tuesday (22) to private bus operators but they wanted more and said they need the bus fare increase immediately and if not, go ahead with the trade union action from tonight," he added.
Meanwhile, the SLTB today cancelled leave of all employees until further notice and retired engine drivers and bus drivers have also been called for duty. (Sandun A Jayasekera)