---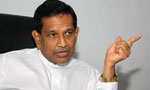 While vowing that the government was determined to take strict legal action against those who were allegedly involved in the Bond scam, Cabinet Spokesman Health Minister Dr. Rajitha Senaratne said there was no mention whatsoever in the COPE report or in the Auditor General's review on the issue to level the accusing finger at Prime Minister Ranil Wickremesinghe.
Addressing the weekly Cabinet news briefing yesterday, Minister Senaratne said there was no iota of evidence to suggest any involvement of Mr. Wickremesinghe in this sordid affair despite the virulent attempts by the Joint Opposition to drag him into the controversy.
"Even, COPE Chairman, Parliamentarian Sunil Handunnnetti has said that no one gave evidence against Mr. Wickremesinghe during the oversight committee's inquiry in Parliament. The Auditor General hasn't said anything against Mr. Wickremesinghe in his report either. The JO is doing this with malice and vengeance," Minister Senaratne stressed.
Minister Senaratne said it was Premier Wickremesinghe who took the initiative to refer the COPE report to the Auditor General to see the possibility of taking legal action against those who have been found to be involved in the Bond scam and also to the Central Bank to inquire the controversy to determine whether there was any misappropriation of public money in the bond market.
"Do you think he would have done this if he has anything to do with the scam? Don't forget that Mahinda Rajapaksa regime did not take any action against a large number of politicians and officials who had highly incriminating evidence of misappropriation of public money and other mismanagements against them in more than 10 COPE reports. They all ended up in the dust bins. No one can criticise Mr. Wickremesinghe for appointing Arjuna Mahendran as the Governor because he was a reputed diplomat and an academic," he emphasised. (Sandun A Jayasekera)