---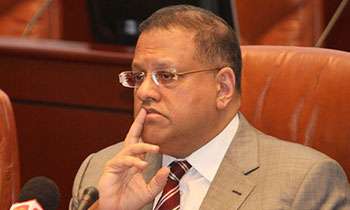 Senior Deputy Solicitor General Haripriya Jayasundara today told Court that there is no legal barrier for former Central Bank Governor Arjuna Mahendran to acquire the documents he sought earlier from the Singapore Interpol relating to the magisterial inquiry conducted into the controversial bond scam.
It was said that first suspect of the inquiry, Mahendran had recently requested copies of some documents relating to the allegations levelled against him and Copies of the warrant issued against him from the CID through Interpol.
SDSG Jayasundara confirmed that the CID has already sent an e-mail to the Singapore Interpol Unit on the instructions of the Attorney General regarding the demand of the suspect allowing him to get the requested documents from the Interpole.
SDSG Jayasundara also said that the prosecution is currently working on getting down first suspect Mahendran under the extradition law of the country. (Shehan Chamika Silva)