---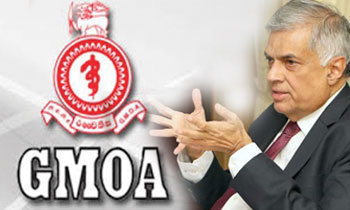 The GMOA today said the meeting it had with Prime Minister Ranil Wikcremesinghe on Wednesday with regard to the SAITM issue was positive and therefore there was no immediate necessity to resort to a trade union action.
The Government Medical Officers' Association (GMOA) Secretary Dr. Haritha Aluthge told the Daily Mirror that they had discussed with the Premier the five proposals put forward by them against the South Asian Institute of Technology and Medicine (SAITM) including the proposal to nationalize it.
He said the meeting held at Temple Trees was attended by GMOA representatives, the Prime Minister and Health Minister Rajitha Senaratne.
"During this meeting, the Prime Minister studied the five proposals and said he did not see anything wrong with these proposals," he said.
"When the Prime Minister inquired from Minister Senaratne about the issues he had on these proposals, Minister Senaratne had asked whether the proposal to suspend student enrollments at SAITM was temporarily or permanently," he added.
He said the GMOA was in need to suspend SAITM's student enrollment permanently and added that however they had requested the Prime Minister to at least implement a legal framework to suspend it temporarily.
He said the Prime Minister had thereafter instructed Minister Senaratne to implement a legal framework on the suspension of student enrollments at the SAITM and added that the response given by Health Minister Rajitha Senaratne during this meeting was appreciable.
He said they had also discussed on the problems in relation to the appointing of a Chairman to the Sri Lanka Medical Council (SLMC) and court cases pending on SAITM issue.
"More discussions will be held with the government following the meeting held on Wednesday, Therefore, there is no immediate necessity to resort to a trade union action during this period," he said. (By Kalathma Jayawardhane)