---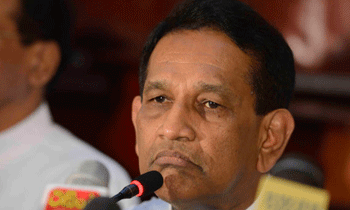 A no-confidence motion signed by 39 Joint Opposition (JO) MPs against Health Minister and Cabinet Spokesman Rajitha Senaratne was handed over to Speaker a short while ago, MP Udaya Gammanpila said.
The motion which was signed by MPs including JO Leader Dinesh Gunawardane, Vasudeva Nanayakkara and Dullas Alahapperuma charged the minister had failed to fulfil his duties as the Health Minister, had solicited bribes during his tenure as the fisheries minister and influenced and threatened the Judiciary and the Attorney General's Department.
The joint opposition alleged though a number of bribery complaints had been made against the minister, no action had been taken so far.
"This shows opportunities to implement justice had been obstructed. Also, the public opinion is as such that he is guilty for these allegations because he is evading investigations," it said.
It said the minister had created chaos in Sri Lanka's medical education by sacrificing it to the business community, by being biased towards the SAITM, misusing public funds to takeover the Neville Fernando Teaching Hospital and voluntarily ignoring to gazette minimum standards of the medical education which were set by the Sri Lanka Medical Council.
The JO said the Minister had failed to adequately respond to the Dengue epidemic and created a financial loss to the state by influencing to purchase a rejected medicinal drug for breast cancer. (By Lahiru Pothmulla)
Video by Isuru