---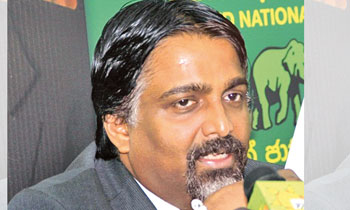 The no-confidence motion against the Prime Minister is illegal because such a motion cannot be brought against him under Section 30 of the Constitution, UNP MP Ashu Marasinghe told a media conference.
He said such a motion had to be against the Government and the President as stated by Section 43 of the Constitution.
"Government, as defined in this Section, comprises the President, the Prime Minister and the Cabinet. According to the Constitution, the President is considered a member of the Cabinet," Dr. Marasinghe said and added that the UNP however, would defeat this motion.
He said this motion was a part of a larger conspiracy by the joint opposition with Speaker Karu Jayasuriya being targetted next followed by an impeachment motion against President Maithripala Sirisena.
Referring to a statement made by State Minister Palitha Range Bandara that more than 20 UNP MPs would vote in favour of the motion, Dr. Marasinghe said what Mr. Bandara had not mentioned was that UNPers would consider voting for the motion if the party was not reorganized before April 4.
He said the party's reorganization would go parallel with the party's plans to defeat the no-confidence motion. "UNP will be reorganized before the National New Year," the MP said and added that it was the UNP which wanted the no-confidence motion debated on April 4 while those in the JO wanted it taken up before the National New Year.
UNP MP Wijepala Hettiarachchi said those who brought the no-confidence motion are the ones who are charged with financial crimes and pointed out that the cases of corruption would be expedited through the Judicature Bill.
The two MPs said if anyone in the government voted in favour of the motion they would have to sit in the opposition. (Yohan Perera)