---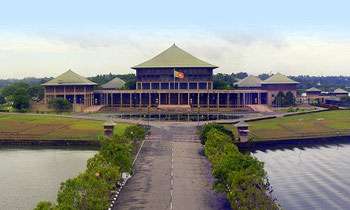 There has been no title deed for the land where the Sri Lankan Parliament is located since its construction in 1982, it was revealed yesterday.
This was revealed when government MP Buddhika Pathirana questioned about it showing an invitation the members of Parliament had received to a ceremony where a title deed would be handed over to Speaker Karu Jayasuriya by Minister of Lands and Chief Government Whip Gayantha Karunatilleke. This ceremony is to be held on June 5.
"This parliamentary complex was constructed in 1982 and we would like to know whether there was no deed for it for the last 36 years," Mr. Pathirana said.
Speaker Jayasuriya who responded said he would explain about it to the members later.
According to Secretary General Dhammika Dassanayake who responded to the journalists who inquired from him on the situation, the ownership of the land had been given to Parliament of Sri Lanka by a 'Thamba Sannaspathra '(credential) engraved on copper plates by late President J. R. Jayewardene to then Speaker M Bakeer Markar on April 1982.
The extent of the land has been 12 acres, one rood and 32 perches at that time. However according to the new title deed the extent of the land will be increased as the ownership of a few other lands and buildings adjoining the premises will be given to Parliament. (Yohan Perera and Ajith Siriwardana)