---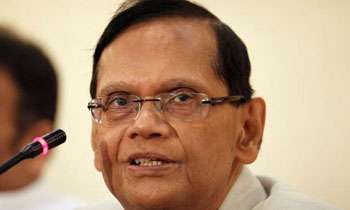 The government today disputed the No-confidence motion handed over by the United National Party (UNP) against Prime Minister Mahinda Rajapaksa and said it could not be taken up for debate on November 16 when Parliament meets.
Addressing the media at the Prime Minister's Office, former Minister G. L. Peiris said the motion had to be placed on the Order Paper of Parliament first, according to the due procedure. Afterwards, he said the party leaders should assign a date for debate on the motion.
Prof. Peiris said there was confusion created by Speaker Karu Jayasuriya saying that Parliament would be re-convened on November 7 based on verbal assurances by the President.
"The Speaker cannot act on verbal assurances. There has to be proclamation by the President to reconvene Parliament before the end of prorogation if he wants. It is entirely in the hands of the President to prorogue Parliament according to Article 70(1) of the Constitution," he said.
Asked as to why Mr. Rajapaksa assumed office as the Prime Minister at such a time, he said though a new government could have been formed after the Presidential Polls in ten months' time for sure, the current predicament of the country compelled him to act in advance.
The former Minister said people were in dire need of economic relief, and therefore the new government announced relief measures in terms of reduction of fuel prices and tax cuts. Also, he said the UNP-led government would have sold off more and more national assets had it stayed in power for another ten months or so.
"It will be irrepressible then," he said.
He cited the need to reverse the Constitution making process and the process of signing certain Free Trade Agreements adverse to the country as reason for early moves to take over governmental power. (Kelum Bandara)