---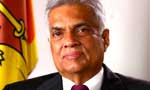 There had been no reports to suggest that chemical emission from the weapons used during the war time, had got into the bodies of civilians, Prime Minister Ranil Wickremesinghe informed Parliament today.
Prime Minister Wickremesinghe who was responding to a question raised by TNA MP Sivashakthi Anandan said there had been no evidence to suggest, such a phenomenon had taken place.
"It is common knowledge that civilians had suffered, especially during the final stages of the war, as a result of artillery fire and other weapons used by both sides, but there is no evidence to suggest that chemical emissions from any weapons entering into human bodies," the Prime Minister said.
However, he said the Government would provide medical assistance if there were any civilians, who were contaminated with chemicals that came out of weapons.
"We will send such civilians abroad for treatment, if such persons are found," he added.
The Prime Minister requested the MP to provide information on such persons.(Yohan Perera)