---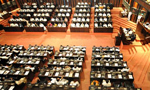 The government is unlikely to present the Value Added Tax (Amendment) Bill before the budget to be presented to Parliament on November 10, it is learnt.
The previous attempt to present was nullified by the Supreme Court on the basis that the due procedure outlined both in the Constitution and the parliamentary Standing Orders has not been followed in presenting it.
Subsequently, the government initiated fresh action to redraft the Bill and present it in conformity with the proper procedure.
However, it is now learnt that the government has shelved the move till the budget is formulated and approved. All the tax reforms of the government will be introduced in the budget.
The government sought to increase VAT from the present 11 per cent to 15 per cent. It decided to do away with exemptions granted to some service sectors such as telecommunication.
A minister told Daily Mirror on condition of anonymity that the Bill was unlikely to be presented before the budget. The Ministers, representing Sri Lanka Freedom Party (SLFP), have also decided to propose certain amendments to the Bill. They have demanded it to be shown to them before presenting to the House.(Kelum Bandara)