---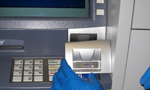 No further arrests have been made in connection with the ATM scam involving two Chinese men who were arrested on Friday, the CID said today.
They were arrested on charges installing an illegal electronic device on some ATMs to skim the data of those using the ATMs.
The arrests were made after the CID had received several complaints from banks in Colombo stating that electronic devices had been installed at ATMs. The illegal devices had been handed over to the CID.
The CID arrested the two suspects at Wellawatta while they were attempting to remove one of the devices from an ATM. They were remanded till May 11 by Mount Laviniya Magistrate.
The CID Director said investigations had revealed that no Sri Lankans were involved in the scam. He said investigations were continuing to determine whether the scam was operated by an organised group of foreigners.(DS)