---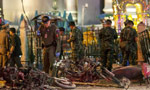 No Sri Lankan casualties had been reported in the series of blasts that took place across Thailand, the Foreign Affairs Ministry said today.
A series of blasts took place in several cities which are considered as major tourist destinations. Four people were killed and several others were injured in the explosions.
According to BBC, four bombs had exploded in the resort town of Hua Hin, while several blasts had hit the island of Phuket, all within a 24-hour period on Thursday and Friday.