---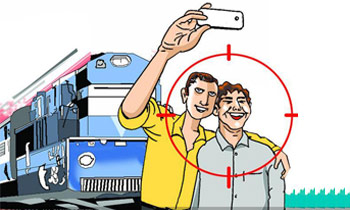 People who take selfies on railways tracks would be arrested and legal action would be taken, a senior official of the Railways Department said today.
Accordingly, the Railway Department would deploy Railway Security officers on tracks to arrest people who use the tracks.
The senior official said the decision was taken following a weekly meeting at the Department.
The Railways Department has taken this decision following two incidents involving selfies in Kollupitiya and Ambalangoda recently.
"A total of 20 deaths have been reported so far during the past five months near vulnerable places on railway tracks or stations, while the victims tried to take selfie photos using their mobile phones or while engaged in conversations with their earphones plugged," they said.
According to the Railways Act of 1864 it said, legal actions would be taken against the persons who use the railway tracks, but he question was that the law was never implemented.
"The department had decided to arrest people who attempt to take selfies, while standing on railway tracks," he said. (Chaturanga Pradeep)