---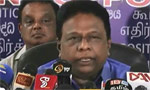 Neither the Sri Lanka Freedom Party Central Committee (SLFP CC) nor the Executive Committee had approved the extension of the agreement entered into with the United National Party (UNP) for five years, SLFP MPs of the joint opposition (JO) said today.
JO national organizer and SLFP CC member Dullas Alahapperuma said there were five MPs in the joint opposition, who represent the SLFP CC and they had not wetted any proposal to extend the agreement.
"Not even the Parliament Select Committee had been consulted prior to announcing that the two parties will continue to serve a full term of five years despite the signed agreement. This is something the party secretary had said and we expressed our objection to such a notion when we met the President on Monday night. When the agreement was signed a year ago, our consent was sought. The CC was consulted even though we had rejected the agreement," he told a news conference yesterday.
Mr. Alahapperuma said there were allegations against the JO that its MPs were fulfilling the terms of a contract signed with the UNP and now it's evident who had undertaken a contract from whom.
Meanwhile, commenting on possible disciplinary action by the SLFP on its MPs in the JO for taking part in the 'Jana Satana Paada Yathra', Mr. Alahapperuma said they were not violating any party discipline by attending the walk.
"People didn't elect us to join the UNP and form coalitions. We even informed the President that we will use any opportunity and platform we receive to defeat the UNP," he said.
Meanwhile, JO leader and MP Dinesh Gunawardena said there were attempts by the UNP-led government to sabotage the 'Paada Yathrawa' but said they would continue with their move despite any sabotage attempts.
The JO said a UNP bigwig with many coordinating secretaries had reserved public grounds in an attempt to sabotage the Paada Yathrawa. (Lahiru Pothmulla)
Video by Sanjeewa