---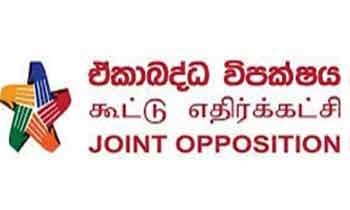 None of the members of the Joint Opposition had taken cash from the Perpetual Treasuries Limited [PTL], Joint Opposition member and MP Shehan Semasinghe said.
Addressing a news conference, he said although several MPs were accused of obtaining from PTL money, no JO member was involved in it.
"Those who appear to be silent these days are the ones who had obtained money from PTL. We can guarantee that none of the JO members are involved in it. We have no reason to get money from a person who is alleged with series a of allegations" Semasinghe said.
"When the government is not being able to apprehend the mastermind of the bond scam, how they become so brave to reveal the names of those 118 individuals, among whom there are some powerful ministers," Semasinghe added.
Meanwhile, MP Indika Anurudda said the country is heading towards anarchy, the government should call for a General Elections immediately.
"President Maithripala Sirisena himself admitted that he is not satisfied with the government's way forward. He was criticising his own government at the commemoration of Ven. Maduluwawe Sobitha Thera's 76th birth anniversary.
The government cannot go on in this manner. Therefore, it should call for General Election and hand over the country to a better group of administrators," MP Anurudda said. (Sheain Fernandopulle)