---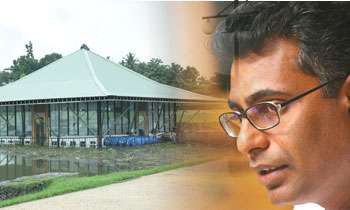 Megapolis Minister Patali Champika Ranawaka said yesterday no government funds were used to build the "Seemamalakaya" in the Diyawanna Oya near the Parliament Road as alleged by joint opposition MP Gamini Lokuge in parliament.
He told parliament that the MP had alleged on Thursday that the "Seemamalakaya" which was built at the entrance to parliament, was of poor quality and had been damaged due to the recent rains.
The minister said it was not a "Seemamalakaya" but a building constructed by a private company to facilitate Buddhist monks and those in the area to engage in religious activities such as meditation and Buddhist sermons.
"The said private company had planned it to be a floating structure, but due to a defect in a pontoon used for that purpose, it did not turn out to be a success," the minister said and added that the company which did the construction work was instructed to look into what went wrong; was it a defect in the designing or construction or an act of sabotage.
He said the company had assured it would rectify the problem within a short time. (Ajith Siriwardana and Yohan Perera)