---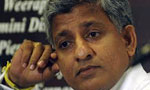 The Colombo High Court today reserved for tomorrow the order on the bail-revision application filed on behalf of former CSN senior executive Nishantha Ranatunga, who was remanded on charges of violating the Public Property Act.
Counsel Nalin Ladduwahetty PC informed Judge M.C.B.S. Morais that he had filed his written submissions in court and wished to mention a few more facts that had arisen in the course of granting bail to the other four suspects.
He said the main argument that the counsel for the other suspects had taken up in Court when seeking bail was the erroneous report filed before the Kaduwela Magistrate by the prosecution.
The Counsel said the prosecution should have filed a certificate by a Gazetted police officer when producing the suspects before the Kaduwela Magistrate to ascertain whether the suspects had violated the provisions of the Public Property Act.
He said the Police had only filed a report by an ASP which was erroneous and not a certificate in line with what is mentioned in the Public Property Act.
The Counsel said his client's freedom could not be restricted by remanding him on the basis of the erroneous report.
He called the attention of the Court to the fact that his client had not interfered with the witnesses or the prosecution and had always co-operated with the prosecution during the its investigations.
The Counsel said his client did not at any time have any dishonest intentions while working as an executive officer of the CSN, adding that his client had ceased to function in his official capacity since 2013 and thereafter, had not held any position in the CSN.
He pleaded that his client be released on bail. (T. Farook Thajudeen)