---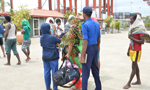 Nine Sri Lankan illegal immigrants who were heading towards Australia were apprehended by the Navy in the seas off Negambo on Monday.
The Navy said five men, a woman, two boys and a girl were among the apprehended people onboard.
"The migrants had left from the Negombo harbour onboard a Multi-Day Fishing Vessel. They were apprehended on a tip off received by intelligence personnel and they were brought to Colombo Harbour and handed over to the Maritime Division of Police Criminal Investigation Division," they said.
The Navy reiterated that there was no means of heading towards Australia by illegal methods and that Sri Lanka was very strict with regard to such migration.
"However, people keep on venturing and losing their hard earned money based on the bogus information given by human smugglers and finally become convicts in the hands of law. Due to the deployment of Sri Lanka Navy's regular patrols and strong network of intelligence it is impossible to break the shackles of the Navy and flee free," they said.