---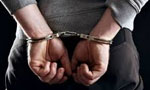 No arrests have been made in connection with the incident where a group of people led by a VVIP's son are alleged to have assaulted security personnel at a leading nightclub last week.
Police said today statements recorded by witnesses, victims and CCTV camera footage had not indicated the presence of a VVIP's son at the night club.
However, police said investigations are continuing.
The security guards are alleged to have been assaulted when they refused the group of people to enter the premises in the early hours of Saturday.
The nightclub entrance was also damaged during the brawl.
Police said they had recorded a statement from injured night club bouncer but he was unable to identify the men who assaulted him. (Darshana Sanjeewa)