---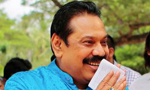 Former President Mahinda Rajapaksa in his Sinhala and Tamil New Year message said that this is a time when the Sinhala and Tamil people conduct traditional New Year observances at the same auspicious times, symbolising national unity and reconciliation.
"I wish the people of Sri Lanka a happy and prosperous new year. The New Year is an annual celebration of North-South unity which could not be shattered even by the gunfire and bombs of terrorists.
The New Year is celebrated with hopes of prosperity and well-being in the coming year. This is a time when we should be mindful about agriculture and food security. We must not forget the agrarian roots of this festival which is all about food production, self-sufficiency and a vibrant domestic agriculture. It is the duty of adults to pass on our new year observances and practices to the younger generation to ensure that our traditions survive.
We must be thankful for being able to celebrate the New Year in a country that is now free of war. By the Sinhala and Tamil New Year of 2009, the war against terrorism had entered its final and decisive phase. As we express our gratitude to Mother Nature for her bounty during the New Year festival, I believe we should at the same time remember the war heroes who brought peace to this country.
I wish you a happy and prosperous new year!"