---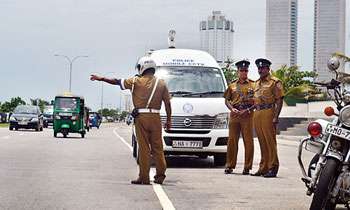 The Gazette notification on increasing fines on seven traffic offences to Rs.25,000 and other amended fines would be implemented after the New Year, Chairman of the National Council for Road Safety (NCRS) Dr Sisira Kodagoda said.
Speaking to the Daily Mirror he said the legislation would be drafted in Parliament for Rs.25,000 fine for seven traffic offences.
Kodagoda said that following several rounds of discussion with the Transport Minister, fines for 33 other offences had been amended to Rs.1,000 as minimum and a maximum of Rs.3,000.
The Transport Minister would issue the Gazette notification with the implementation date after the New Year, Dr Kodagoda said.
"The fines for other offences warranting such fines are driving without a valid insurance, exceeding speeding limits, driving across level crossings while in red, or assigning someone without a valid licence to drive a vehicle," he said.
"Vehicles exceeding marked speed limits on expressways would be charged a spot fine of Rs.3,000.
"The minimum fine for reversing from a side road into the main road would be increased to Rs.500," he said. (Chaturanga Samarawickrama)