---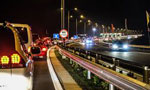 Steps were being taken to establish a speed detector system at the Southern and Katunayake Expressways so that the speeding drivers could be fined at the exit points, Expressway Operation, Maintenance and Management Division Director S. Opanayaka said today.
He said the steps were taken to minimize the increasing number of accidents on the expressways involving speeding vehicles.
Mr. Opanayaka said most of the accidents reported on the expressways during the last three months had been caused by speeding vehicles.
"Even though the speed limit on the expressways had been limited to 100 kmph, it is reported that most of the vehicles violate the restriction. We do not have a sufficient number of speed detectors at present and they do not have a night vision facility to function at night," he said.
He said the new system would be operational round the clock as they were equipped with night vision and added that speeding drivers would be given a spot fine at the exit point.
"According to the new system, the errant drivers would be given a video clip of the over speeding vehicle at the exit point and no one would be able to escape. The Expressway Police would be trained to use the new system," he said.
Mr. Opanayaka said the new system would be in place within the next two months and added that the initial test would be done at the end of this month.
"We will be able to install the system within two months time. Procurement procedures are in the final stage," he said. (Ajith Siriwardana)