---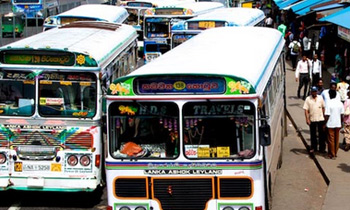 Minister of Transport and Civil Aviation Nimal Siripala De Silva instructed the National Transport Commission (NTC) to cancel the route permits issued to inter provincial buses which stop out of the halting places to drop or take passengers.
The Minister has instructed to the Chairman of National Transport Commission M. A. P. Hemachandra to install CCTV Security Cameras in relevant places after observing where these buses stop and to deploy the team of inspectors to observe the buses which stop at irrelevant places.
Minister De Silva said that arrangements have been made to launched this programme with effect from July 1.
He said that this decision was taken to prevent inconvenience caused to passengers and to stop these kinds of actions after considering the complaints lodged by the commuters to the Provincial National Transport Authority regarding the delay of buses in the recent past.
The Minister has instructed the NTC not to renew the route permits of errant buses when they come to renew route permits annually. He also instructed the NTC to inform the private bus owners and union about the programme.(Darshana Sanjeewa)