---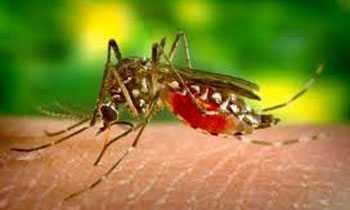 Malaria is a life-threatening disease transmitted by infected female Anopheles mosquitoes. There have been several malaria epidemics in the past and a major attempt in eradicating the disease failed and consequently there was a resurgence of the epidemic.
The worst malaria epidemic was recorded between the years 1934 and 1935 when there was a severe drought, food shortages and a malaria outbreak in the wet zone which is an area supposed to be malaria free.
In 1945 regular spraying of DDT started in malaria endemic regions and the number of malaria cases decreased strikingly that it gave hope of eradicating malaria. Yet an epidemic broke out once again in 1968 and vectors resistant to DDT were discovered. This raised serious concern as by 1980 all efforts to control malaria proved to be futile as it reached a situation similar to the pre-DDT period.
Subsequently health authorities started using malathion instead of DDT and there were effective changes in the Anti-Malaria Campaign as well. The struggle to control and eradicate malaria persisted through the civil war and ultimately last year, the World Health Organization(WHO) certified that Sri Lanka has eliminated malaria and is malaria free as there were no infections reported in the preceding three years. The eradication of malaria in Sri Lanka has given hopes for more than 30 countries as it shows that persisting commitment can remove malaria.
However the discovery of an Anopheles stephensi mosquito in Mannar recently which can transmit Malaria has raised concern among health authorities and they are taking possible precautions to prevent a resurgence of the disease.
Speaking to Daily Mirror Dr. Sarath Amunugama, the Deputy Director General of Health Services said an Anopheles stephensi mosquito was identified in Mannar. "This mosquito is predominantly found in India. This is an urban mosquito as it can survive in the urban environment. Usually the Anopheles mosquito is found in rural dry areas," he said.
"If this particular type of mosquito spreads in the country there is a probability of contracting malaria in urban areas as well. This mosquito has to suck the blood of a malaria infected patient to be able to transmit it to another," he added.
Precautions taken
"We have started fogging the area, and putting abate, a chemical, in breeding places. We are doing entomological surveillance to find out if there are more mosquitoes of this type. We are also spraying Indoor residual insecticides," Dr. Amunugama said adding that the health authorities were taking all actions to prevent transmission. He requested the people in Mannar to assist them in preventing the spread of the mosquito.
"To diagnose the disease it is necessary to get a blood film and test for malaria parasites," he said. He believes that the discovery of the mosquito in Mannar will not affect the malaria-free status in the country. (Amra Ismail)