---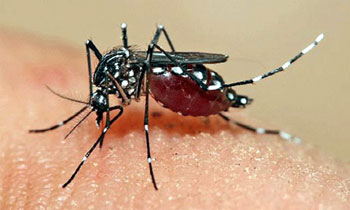 A new species of mosquito, 'Aedes Aegypti Type-2' which has developed resistance to fogging, BTI and other dengue control methods was the reason for the most number of dengue cases this year, Government Epidemiology Unit's Dengue Control Unit Director Dr. Hasitha Tissera said.
He said as of yesterday the number of patients had increased to 89,885 with 269 deaths.
Dr. Tissera told reporters that though there was a slight decrease in reported dengue cases countrywide, the mosquito density was on the rise with the sporadic rains.
He said 136 deaths and 37,981 dengue patients were from the Western Province with Southern Province reporting 24 deaths and 10,709 patients while Sabaragamuwa Province reported 27 deaths and 9,688 patients.
Dr. Tissera said 30% of the dengue victims were schoolchildren and 50% were between 15 and 46 years of age.
"Weakening of acquired immunity, viral infection outside residence, older age and extensive dengue reaction methods contribute to the epidemic. However, early detection through blood tests and early hospital treatment will help dengue patients to recover speedily," he said.
Health Minister Rajitha Senaratne said dengue control is entirely a community-based exercise and therefore the people together and individually must act responsibly to end the dengue menance.
"Countries like Cuba and Pakistan have controlled dengue with the cooperation of the armed forces and strict laws. But in a democracy like Sri Lanka we cannot do that because people invade the streets and public establishments for no reason at all," he said.
The minister said 'Aedes Aegypti' was difficult to be destroyed through fogging, BTI or other methods. The government is trying other options like introducing a larva-eating mosquito.
He rejected certain media reports that there were 400,000 dengue patients and added this figure has been mentioned by someone with a demented mentality.
Doctors L. Fernando, Amitha Ginige and Ananda Wijewickrama also spoke. (Sandun A Jayasekera)