---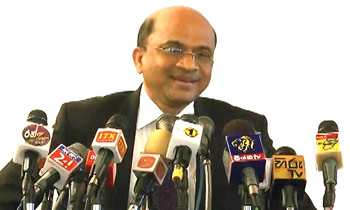 A new citizens' participatory audit system to assess the services provided by local government bodies to their constituents would be implemented before long, the Auditor General's Department said yesterday.
An audit report will be released based on the feedback received from the residents and other individuals who seek the services of local government authorities in addition to financial reports and management standards of the entity.
Speaking at an event organised by the Colombo Municipality to discuss the responsibilities of working towards a better audit report, Auditor General Gamini Wijesinghe warned local government entities that they would no longer be audited on their financial reports alone.
"One of the main concepts of good governance is how an individual receives the service he or she seeks. It is of no use having good reports if they are unhappy with the service provided," he said.
Speaking of the Colombo Municipality's somewhat positive audit report after more than four decades, the AG explained that many of the issues on the audit report was connected to arrears in rates the municipality had to receive.
"Many public sector employees fall into the vicious circle of blaming, they don't take measures to change and update the system," he said.
Speaking of auditing in recent times, Mr. Wijesinghe said the 19th Amendment to the Constitution had widened the scope of auditing to include not merely financial reports but also management structures and even the green initiatives by government institutions.
The focus on the environment would make it near impossible for the CMC to receive similar positive reports in the future as it had to take concrete measures to resolve the garbage issue in Meethotamulla.
Meanwhile, Commissioner V. K. A. Anura who spoke to the media after the event said the municipality had arrived at a short-term solution to the garbage issue. Refusing to provide specifics of the project, Mr. Anura said groundwork of the venture was complete and that it would be initiated in two months time.
Meanwhile, Assistant Auditor General (Western Province) T. Premalatha who also addressed the gathering said the CMC had the potential to multiply its revenue.
She pointed out that 188 government organisations were yet to pay Rs. 528.4 million to the CMC as rates, and that they were just 17 per cent of the total number of properties that had dues in rate payments.
However, the municipality was to receive a staggering Rs. 2,566 million in arrears as of December 31, 2015, with Rs. 852 million from properties which were over the Rs. 500,000 benchmark.
Furthermore, the municipality did not charge arrears from all properties within its city limits. (Nabeela Hussain)
Video by Buddhi