---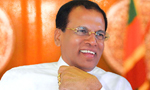 President Maithripala Sirisena said that the New Year is the foremost national and cultural festival of the Sinhala Buddhists and Tamil Hindus in Sri Lanka. The importance of the New Year is that they celebrate it upholding their rich cultural traditions and values.
Issuing a message, the President said;
One of the great and significant moments of the New Year customs and traditions is preparing and partaking meals by all of us in all solemnity at the same auspicious time. New Year is a combination of customs and traditions like sharing and appreciating, respecting elders and giving gifts to each other. Let's determine to celebrate this New Year with due consideration to the core values of this festival and sustaining our distinctive cultural heritage.
The New Year is a colourful spring festival, which symbolises the movement of the sun from MeenaRashiya (the house of Pisces) to MeshaRashiya (the house of Aries) and it also rekindles our relationship with the beauty of nature. This is a time when houses are filled with the joy and sweet words of hospitality, 'come, sit and eat'. I see the New Year festival as a link that promotes and strengthens reconciliation among the communities.
I call upon every Sri Lankan to celebrate this year's New Year in a way to actively contribute to building a country free of intoxicants, adhering to the national programme initiated by us.
I extend my heartiest wishes to everybody to have an auspicious New Year. May milk-rice be cooked even in the poorest of the household; a smile be blossomed on the lips where there was no laughter; tenderness and kindness replace violence and hatred; amity and goodwill supercede rivalry and antagonism.
Let's determine to rise as One Country - One Nation unhindered by divisions or disparities but genuine peace and equality, and to build a drug-free, alcohol-free country in the New Year commencing today.
I wish you all a very happy New Year!"