---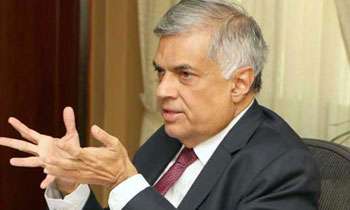 The Government would soon have a new structure and new programmes, where some of the SLFP Ministers and the UNP would be working together, Prime Minister Ranil Wickremesinghe said today.
Mr. Wickremesinghe said this at the launch of Lakeview Residencies project at Talawathugoda this morning.
"The SLFP Ministers met President Maithripala Sirisena and met me Wednesday night and we have decided to restructure the Government and to come up with a new programme of work," the Prime Minister said.
"Subjects to all Ministries will be allocated scientifically," the Prime Minister added.
Mr Wickremesinghe said this in response to a request made by Minister of Megapolis and Western Development Patali Campika Ranawaka, who also spoke at the event before the Prime Minister.
The Prime Minister added that projects such as Lakeview Residencies were needed to fulfil the housing needs of the middle class.
"More houses are needed for the middle class as the population of this particular strata, is increasing at the moment.
"Sri Lanka is a middle-income country but it will convert into a higher middle income earning nation in the near future. We, therefore, will have to adjust to this need and provide necessary infrastructure facilities," the Prime Minister added.
He said the population of whole Western Province, Kurunegala up to Chilaw would become a middle- class population region soon.
"The Prime Minister added that lands in these urban areas will be mostly used for housing rather than using them for industries," he said. (Yohan Perera)