---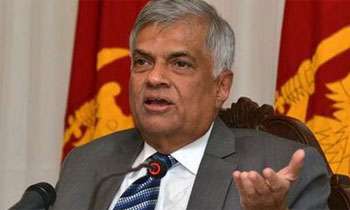 A new Constitution can be worked out later if it is impossible now due to uncertainty in getting it approved by a two-thirds majority in Parliament, Prime Minister Ranil Wickremesinghe said yesterday.
Mr. Wickremesinghe was attending a 'Jana Hamuwa'(public gathering) held in Kalutara after the opening of a new commercial centre and market last evening.
"It is possible to enact a Constitution only if it could be approved by a two-thirds majority in Parliament. One cannot be sure whether it can be approved by such a majority. Therefore a new Constitution could be brought in on a later date even if we cannot do so now," the Prime Minister said.
He reiterated that the sentiments expressed by the Mahanayake Thera of Malwatte Chapter in regards to a new constitution.
"Compiling a new constitution is not a duty assigned to me but the duty of the Constitutional Assembly and Parliament," the Prime Minister added."We have put out some documents which contains some proposals for a new Constitution. All political parties have agreed on devolving power under an undivided nation. This was not the case in the past. When G. G. Ponnamblam joined the United National Party (UNP) in the 1950s calling for devolving power under one nation, the late S.J.V. Chelvanayagam opposed it and called for Federalism. He later formed the Federal Party. Thereafter the Tamil United Liberation Front (TULF) called for separation. However, the Tamil political parties have accepted a political solution within a united country. Therefore one should not sabotage the process of resolving the national issue," Prime Minister added.
"Federalism is where the sovereignty of people is divided among several units of administration. If such powers are going to be devolved in such an extensive manner it has to be approved by a two-thirds majority in Parliament and should be approved by the people at a referendum. However our government is not in favour of devolving the sovereignty of the people among several administrative units," he pointed out.
He said the present government has been able to bring about economic stability and to bring about a consensus with regard to the 'Ekiya Bawaya (unitary status) of the country.
UNP MP Lakshman Wijemanne said the Court Complex in Kalutara will soon relocate to Katukurunda. He said the setting up of a tourism zone along the Kalutara beach has also been mooted.(Yohan Perera and Sunil Tanthriarachchi)