---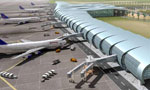 Work on a new Airport Terminal that is capable of handling 20 million people will be begun at the Bandaranaike International Airport (BIA) next year, Deputy Transport Minster Asoka Abeysinghe said yesterday.
He said the new terminal would be built with a grant of US$ 800 million from the Japan International Cooperation Agency (JICA). It is planned to complete the terminal within two years.
"The terminal we have now can handle only about 6.5 million people but 8.5 million people use it. Therefore, we will build the new terminal to handle 20 million people in the future," he said.
He said the BIA had only eight aerobridges and, with the addition of the new terminal to accommodate more passengers, the number of aerobridges would be increased to 24.
He said the main runway of the BIA would be closed for renovation in January next year.
The Minister said that they had decided to renovate the runway in January as it was the month with the least number of flight arrivals.
"These flights will be diverted to the Mattala Rajapaksa International Airport (MRIA). The BIA will be closed for more than a month for the renovations. The runway is 3,300 meters long and a stretch of only 100 meters could be renovated with a new carpet layer per day as it takes eight hours to cool," he said.
He said the runway had not been renovated for more than 15 years and that about $80million had been estimated for the renovation. (Chaturanga Pradeep and Indika Sri Aravinda)
Video by Indika Sri Aravinda