---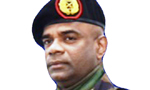 The Commander of the Security Forces in Jaffna, Major General Mahesh Senanayake asserted on Saturday that there would never be another war in Sri Lanka.
Briefing the media on the present situation in the North he opined that the presence of the army in the North had helped the citizens greatly and their services are greatly acclaimed.
He said that despite this consensus building up the TNA politicians are clamouring for the removal of the army from the North claiming that the war had ended seven years ago. The Chief Minister of Northern Province C.V. Wigneswaran had been quoted as having said in Vavuniya and some other places in the North that the Army in the North should be replaced by the police in providing security to the people in the North, he added.
Army had been having a very close rapport with the people at all religious functions and in disaster in the North. The war which dragged on for a number of years had apparently distanced the Army from interacting with the people, but now it is time for the people to realise who the Army and other security sections really are. They can now present their problems to the nearest Army camp and obtain redress and also submit to them any appeals for assistance, he stated.(Romesh Madushanka)