---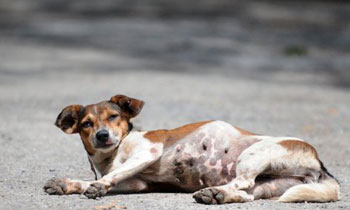 Animal activists expressed outraged today after a video of at least 23 dogs and several cats being stabbed with what looked like needles containing a toxic substance of some sort by persons inside the process of the University of Moratuwa, went viral on social media last Saturday (15).
A student of the Moratuwa University had released three video recordings which appeared to show the university authorities sticking needles into these animals thereby rending them unconscious, however he was allegedly pressurized by the authorities to remove the videos, it was reported.
Groups of animal rights activists, with the support of university students had recovered 10 cats and two dogs on Sunday (16) evening buried in a pit in a land in Homagama.
Animal rights activists who had discovered the dead animals, charged that the animals were injected with "Ketamine", a chemical that causes paralysis in animals, but the authorities had mistakenly overdosed the cats and dogs leading few to the deaths of these animals.
It was also revealed that the dogs that had been killed within the confines of the Moratuwa University had been sterilized two weeks before by the students who had paid a veterinarian to attend to them with their own funds.
According to the students a similar incident had taken place at the Sri Jayewardenepura University a few months back where upto 100 stray cats and dogs were rounded up by the university authorities and taken away allegedly to be gotten rid of at another location. They further claimed that the university authorities had threatened some of the students with suspension if news of this was leaked to the media. (Thilanka Kanakarathna)