---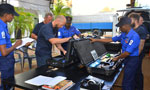 The Navy said today that it had earned an income of Rs. 1 billion from the operations of Avant Garde Maritime Services Ltd (AGMSL) during the period from November 13, 2015 to April 06, this year.
Navy Spokesman Akram Alavi said the Navy had carried out a total of 2,689 moves at Galle harbour and earned an income of Rs. 980 million while Rs. 30 million of income had been earned from 105 moves in Colombo harbour.
The Government in early November decided to handover the operations of the controversial AGMSL to the Navy.
Captain Alavi said the revenue earned from these operations is directly deposited in the Consolidated Fund of the Government.(DS)