---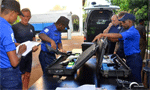 The Navy had earned Rs. 2.26 billion after taking over the Onboard Security Team Operations (OBST) from Avant Garde Maritime Services in 2016, the Navy said today.
Accordingly, the Navy had carried out a total of 5,928 shipments to the Galle harbour and 443 shipments to Colombo harbour during last year.
Meanwhile, since the inception of OBST operations from November 13, 2015 until January 02 this year, the Navy had earned an income of Rs. 2.63 Billion for a total of 7,457 shipments. "Galle and Colombo harbours have carried out 6,922 and 535 shipments respectively averaging approximately 573 shipments a month" Navy said.
The Galle and Colombo operation centres look after the receiving, holding and issuing of weapons, ammunitions and other related equipment belonging to foreign as well as local On Board Security Teams.
The earnings generated through OBST operations are directly deposited to the Consolidated Fund of the Sri Lankan Government.
With the Government annulling the agreement with Avant Garde, the Sri Lanka Navy was entrusted with the task of providing security to merchant vessels and supplying services to Security Firms involved in providing on-board security to merchant ships.
"Since taking over these tasks, the Navy has ensured that the security requirements of the merchant vessels which frequent the High Risk Area (HRA) are provided efficiently," the Navy said. (Darshana Sanjeewa)