---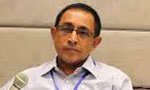 United National Party (UNP) General Secretery Kabir Hashim said today person who to be named to fill the vacancy created by the death of former Minister M.K.D.S. Gunawardene would be decided by the party leader and the committee appointed for this purpose.
Clarifying the recent article by Daily Mirror titled, "UNP to nominate SF to Parliament: Kabir," he said no final decision had been made on the appointment of Field Marshal Sarath Fonseka to Parliament through the UNP national list.
Mr. Hashim said the Field Marshal had not even been shortlisted, but was one among many others whose names were discussed to fill the vacancy.