---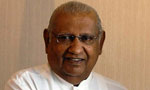 The national day of mourning which was declared by the government for former Prime Minister Ratnasiri Wickremanayake was canceled following a request made by his family members, Home Affairs Ministry sources said.
Ministry spokesman Asanga Jayalath said family members of the former Prime Minister requested to cancel the decision as it would inconvenience the people in the festive season.
The government previously declared December 31 and then December 30, a national day of mourning as a mark of respect for the late premier.