---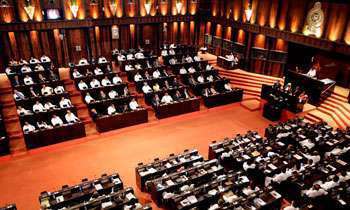 The government is likely to put off the parliamentary debate that that was due to take place today (7) on the resolution to form a national government, the Daily Mirror learnt.
The government backed down after the opposition protested against the move to increase the size of the Cabinet by the act of forming a 'national government'.
The government initially planned to suspend the Standing Orders for the day and move the resolution.
Once the Standing Orders are suspended, parliamentary businesses can be carried out regardless of the stipulated procedures.
However, the Daily Mirror also learnt that Speaker Karu Jayasuriya was not in favour of the move to suspend the Standing Orders in such a scenario.
With the government deciding to cancel the debate today the formation of a national government seems unlikely at the present moment. (Kelum Bandara)