---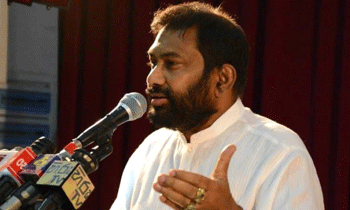 Primary Industries Minister Daya Gamage said though a National Government was extremely necessary to speed up the development in the country, the UNF did not want to confront President Maithripala Sirisena on this matter because as he was opposed to such a government. He said the government did not need the support of 113 members in parliament to rule the country as long as the issue did not arise.
At a ceremony held to hand over appointment letters to top officials of the statutory bodies that come under the purview of his ministry, the Minister pointed out that the UNF was the biggest single party in the House and had majority support to pass any Bill.
"The problem arises if and when the joint opposition challenges us in parliament on any issue. In such a scenario, we need the support of a minimum of 113 members to ensure the smooth functioning of the government.
We are well aware that the JO will never hesitate to grab an opportunity if they sense that the government can be defeated in a parliamentary vote at any time," he said.
The Minister said the UNP believed that the President would eventually agree to a National Government when the party secured the necessary numbers. (Sandun A. Jayasekera)