---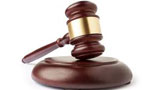 Colombo Commercial High Court terminated inquiries into the case, in which the former JVP Leader Somawansa Amarasinghe and its General Secretary Tilvin Silva took legal action against NFF leader Parliamentarian Wimal Weerawansa, restraining him from printing, publishing and distribution of his book titled Naththa Wenuwata Aththa.
The Court terminated further inquiries on the case consequent to the parties agreeing to mediate the matter conditionally.
Plaintiffs had filed the case contending that the contents of the documents devoid the permission of the party constitutes, which was an offense under the Intellectual Property Act.
Respondent Wimal Weerawansa earlier filed an Appeal in the Supreme Court challenging the Interim Order issued on May 27, 2007 by the Commercial High Court that restrained the respondent from printing, publishing and the distribution of the book until the conclusion of the case, before the Commercial High Court.
The petitioner's had sought a permanent injunction, preventing the book being printed, published and distributed on the basis that it contained internal documents of the Central Committee of the JVP, that were protected under Intellectual Property Rights. (T.Farook Thajudeen)