---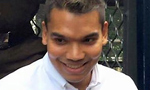 Parliamentarian Namal Rajapaksa and Sudarshana Bandara who were arrested by the FCID yesterday over the inquiry conducted under the Money Laundering Act for purchasing Rs. 100 million worth shares of a company called Hello Corp from alleged ill-gotten funds by Gowers Corporation which is headed by Mr. Rajapaksa, was remanded till August 22 by Colombo Additional Magistrate Lanka Jayaratne.
Producing the suspects in court, the prosecution filing two separate B reports informed court about the two suspicious Rs. 15 million and Rs. 30 million transactions on the instructions of the Attorney General.
According to the FCID, the suspect Namal Rajapaksa had dealt with a company called 'Boston Capital' and given Rs. 15 million by himself and another Rs. 30 million through one Indika Karunajeewa to the chairman of that company, Mr. Rohan Abey Iriyagolla, in order to conceal the origin of the alleged ill gotten funds.
The prosecution alleged that according to the statements got from the chairman of the Boston Company, the given money was paid to Gowers Corporation and NR Consultancy Companies again, which are headed by Namal Rajapaksa, under the disguise of payments for the services obtained by the Boston Company.
The two transactions were found by the prosecution as offences that fell under the Money Laundering Act.
The other suspects, Indika Prabath Karunajeewa, Pavithra Sujani Bogollagama, Nithya Senani Samaranayake, Sudarsha Bandara Ganegoda and Iresha Silva were earlier named as suspects by the FCID over conspiring to commit the offences that fell under the Money Laundering and Penal Code.
The prosecution held that it had initiated a broad investigation to apprehend the most wanted suspect, Indika Karunajeewa, who resides abroad by absconding the prosecution.
They also said that the main witness of the inquiry Bangladesh national, Abdul Al Saman was also missing since the investigation started.
The FCID requested court to remand the suspects on the possibility of some of the witnesses being affected by the suspects.
The defence counsel filing a bail application moved that the suspects would not interfere with the witnesses or the investigation.
They also questioned the integrity of the witness Iriyagolla, who is the owner of the Boston Capital, comparing the contradictory statements given by him to the FCID.
Considering the prosecution request over the possible interference with the witnesses by the suspects, the Magistrate remanded the suspects and directed the police to expedite the investigation.(Shehan Chamika Silva)