---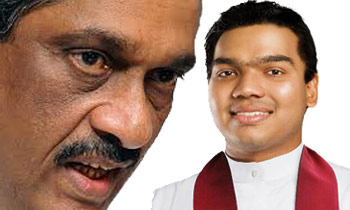 Responding to Minister Sarath Fonseka's statement that former president Mahinda Rajapaksa should be hung by his 'saatakaya', Mr. Rajapaksa's son Namal said yesterday it would not be that easy as long as the former president's three sons and the people were with him.
The MP told a media briefing that Mr. Fonseka should hang the former president's sons and his supporters before hanging him.
"Unfortunately, Mr. Fonseka, the same person who is in need to hang the former president of the country, has been appointed by President Maithripala Sirisena to discipline the people," he said.
Meanwhile, the MP said the former president was the main focus at several May Day rallies. He said the government had challenged them to fill the Galle Face Green with people at the joint opposition's May Day rally and had successfully met that challenge.
The MP said it was now the turn of the government to take up the challenge of holding elections without further delay. (Kalathma Jayawardhane)