---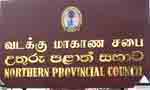 A Bill aimed at establishing the Northern and Eastern provinces into one federal ruling system and some other proposals to be considered when devising the New Constitution were today passed by the Northern Provincial Council with a majority vote.

The Bill which was primed by the Tamil National Alliance (TNA) was presented to the Council by Northern Province Chief Minister C. V. Vigneswaran.

The TNA formulated the bill based on the views and suggestions of the people in all districts covering the Northern Province through a special committee of the party.

The Bill has mainly focused on the merger of the Northern and Eastern provinces into one ruling system and establishing it under a federal system. (Romesh Madushanka)