---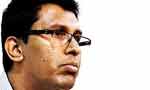 The true intention of the Northern Provincial Council (NPC) was to pave the way for a Tamil State under the guise of a Federal State, the Jathika Hela Urumaya (JHU) charged yesterday.
National Organiser and JHU Western Province Councilor Nishantha Sri Warnasinghe said measures taken by the NPC would lead to a conflict between the people representing different ethnic groups.
He stated that the conduct of Northern Province Chief Minister C.V. Vigneswaran affected the reconciliation process initiated by the government and the people in the South.
"In the past, based on language issues, former president Chandrika Kumaratunga also attempted to introduce a federal state system to the country, but it was defeated by them. The initiatives taken by the NPC based on the language issue violates the Constitution, and this could act as a barrier for the country's peace and reconciliation process," he said.
Mr. Warnasinghe pointed out that Tamil National Alliance (TNA) Leader and Opposition Leader R. Sampanthan had raised serious concerns about dividing the country based on language issues and introducing a Tamil State.
"All they want is more power and they have done nothing for Tamil people in the North by the funds provided to them," he said. (Yoshitha Perera)