---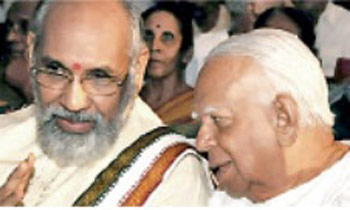 The crisis of the Northern Provincial Council (NPC) was sorted out yesterday after a compromise between Chief Minister C.V. Wigneswaran and Tamil National Alliance (TNA) Leader R. Sampanthan at the behest of two religious dignitaries and the political allies.
The differences were ironed out following the exchange of letters between the TNA leader and the Chief Minister.
The TNA leader in his letter yesterday informed Mr. Wigneswaran that he had already informed the Northern Province Governor that the no confidence motion would be withdrawn.
The crisis erupted after a section of TNA members handed over a no confidence motion against Mr. Wigneswaran and another set switching allegiance to him. The Chief Minister drew a flak as he asked two ministers of the Provincial Council to go on leave to facilitate inquiries into fresh charges frames against them.
However, the TNA leadership insisted that the initial board of inquiry had no finding of guilt against these two members, and therefore further inquiries were not warranted.
The two leaders refused to budge from their stands eventually deepening the crisis.
In the meantime, PLOTE leader Darmalingam Sitharthdan , EPRLF leader Suresh Premachandran and TELO Selvam Adaikkalanathan requested both to arrive at a common position . Mr. Samapanthan finally agreed to allow further inquiries against the two ministers against whom there were no finding of guilt initially. Also, he agreed to ask them not to interfere with the inquiries.
The Chief Minister softened his position and decided to send the two ministers on leave. Alongside, Jaffna Bishop Jutsin Bernard Gnanapragasam and a leading Hindu priest also intervened and prevailed upon the two to resolve the problem. (Kelum Bandara)