---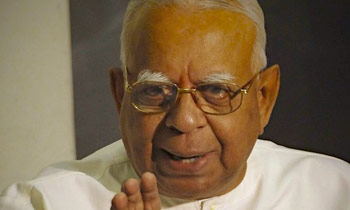 Tamil National Alliance (TNA) leader R. Sampanthan said yesterday Northern Provincial Council (NPC) Chief Minister C.V. Wigneswaran had created an unnecessary crisis by opting to take action against two provincial ministers not found guilty of any allegation.
He said this in reference to the no-confidence motion submitted against the CM by the members of the Ilankai Tamil Arachu Katchi (ITAK).
Mr. Sampanthan told Daily Mirror that the CM had appointed a committee comprising two retired judges and one senior civil servant to look into corruption allegations against the NPC ministers.
He said one minister was found guilty of corruption while another of administrative lapses but the other two ministers were not found guilty of any charges.
"Yet, the CM asked these two ministers to vacate their posts and go on leave. There is no provision for that. The ministers must resign or are removed from their ministerial posts. The action by the CM was not acceptable to the ITAK," Mr. Sampanthan said.
He said the CM stirred up an hornet's nest by making a statement regarding these two ministers.
"The CM can take action against those found guilty and it is a matter for him to resolve," Mr. Sampanthan said. (Kelum Bandara)