---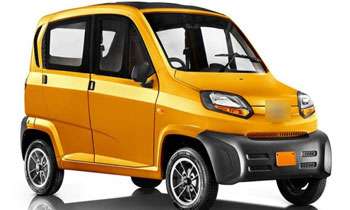 The National Movement for Consumer Rights Protection (NMCRP) and several civil society movement organizations today handed over a petition to the Indian High Commission against the attempt to import "Quadricycle"-micro car, which has been banned in India, into the country.
NMCRP Chairman Ranjith Withanage pointed out that the government attempting to ban an Indian made vehicle that had been banned in India by misusing their power. "The number of deaths and injuries as a result of road accidents involving non-roadworthy vehicles in Sri Lanka is already on the rise. The import of this type of vehicle therefore would exacerbate the problem and result in more deaths," he said.
Due to concerns over Quadricycle's safety aspects, in 2015 the Department of Motor Traffic (DMT) delayed granting approval to import the Bajaj Qute RE60 quadricycle.
It was learned that the DMT is to add a new vehicle category for quadricycle after permitting the import of the vehicle.
Bajaj Qute, the motorised four-wheel quadricycle vehicle, weighs less than 450kg and is said to be 37% lighter than the smallest car presently existing in the domestic market with a light 216.6 cc engine. The maximum speed stipulated for the vehicle is said to be 70 kmph.
The launch of the vehicle in India had been halted for three years due to legal action by rival companies, despite the government approving the new category of vehicles and the company will be reaching out to its overseas markets to avoid incurring losses.
According to the Economic Times, three-wheeler giant Bajaj Auto will be exporting its 'Quadricycle' vehicle to its traditional export destinations like Sri Lanka, Egypt and Nigeria. (Thilanka Kanakarathna)