---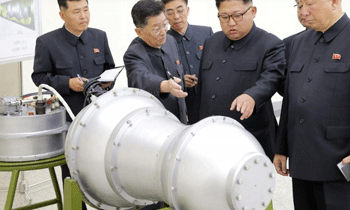 A shallow magnitude 6.3 earthquake shook North Korea on Sunday, suggesting it had detonated its sixth and most powerful nuclear test device, hours after Pyongyang said it had developed an advanced hydrogen bomb that possesses "great destructive power".
The earthquake, which Japan said was a nuclear test, struck 75 km (45 miles) north northwest of Kimchaek, where previous tests have been conducted. Such a move would be a direct challenge to U.S. President Donald Trump, who hours earlier had talked by phone with Japanese Prime Minister Shinzo Abe about the "escalating" nuclear crisis in the region.
The 6.3 magnitude recorded by the U.S. Geological Survey would represent North Korea's most powerful detonation yet, which one expert said could support its claims to have developed a hydrogen bomb.
"The power is 10 or 20 times or even more than previous ones," Said Kune Y. Suh, a nuclear engineering professor at Seoul National University. "That scale is to the level where anyone can say a hydrogen bomb test."
A U.S. official who studies North Korea's military and politics said that seismic data on the tremors was being analyzed, although the location suggested another nuclear test.
The official, who spoke on the condition of anonymity, said it was too early to determine if a test, if there was one, supported the North's claim that has succeeded in developing a thermonuclear weapon, "much less one that could be mounted on an ICBM and re-enter Earth's atmosphere without burning up".
The hydrogen bomb report by North Korea's official KCNA news agency comes amid heightened regional tension following Pyongyang's two tests of intercontinental ballistic missiles (ICBM) in July that potentially could fly about 10,000 km (6,200 miles), putting many parts of the mainland United States within range.
Under third-generation leader Kim Jong Un, North Korea has been pursuing a nuclear device small and light enough to fit on a long-range ballistic missile, without affecting its range and making it capable of surviving re-entry into the Earth's atmosphere.(Reuters)